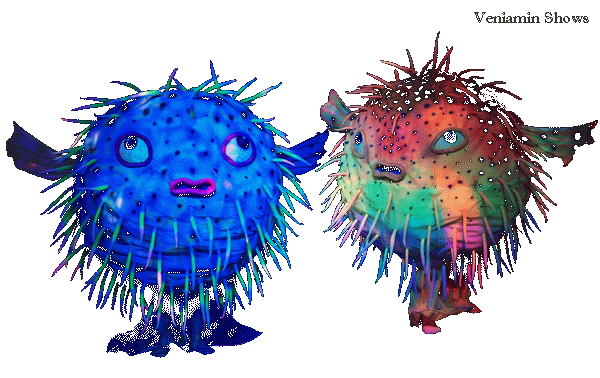 THE WORLD OF VENIAMIN SHOWS
The most unusual, astonishing, unique and creative show of its kind in the world to have graced these pages...Almost beyond description. People ask....what is it? What are we watching? Absolutely fascinating to say the least...People everywhere are completely astonished and baffled at those acts. Veniamin came from Transylvania Romania to live in Orlando Florida.
Veniamin's unique variety specialty acts appeared on the Late Show with David Letterman, America's Got Talent, Britain's Got Talent, The View, Viva Variety, BBC and ITV UK, NTV Tokyo Japan and other Television shows all over Europe, Asia and South America. Millions of people have seen Veniamin's Human Slinky daily performance at Sea World Orlando Florida, Mad Tea Party Disney California, Gardaland Italy and Samsung Everland Park in South Korea.
With appearances on TV Shows all over the World and mystifying audiences everywhere, you just have to see him perform. David Letterman was so impressed with Veniamin's Human Slinky act, he said, "Get ready for 3 minutes of bizarre television, even by CBS standards!"
Veniamin Shows - The Perfect Relaxation After a Tensed Week
There's probably no better way to chill out after an hectic week like taking your time to watch one of the Veniamin shows. It is unarguably one of the most unusual, unique, fascinating, and beautiful show that you'll ever be in. It features a whole new level of creativity that is guaranteed to leave you astonished.
The Veniamin show is a show of a lifetime that is worth witnessing by all. Our Veniamin show comes with the right entertainment for everybody, from kiddies show to adult funfair. Our acts are not just beautiful, but they also have the right moves to make your party or any show a blast. The perfect combination of great looks and the right attitude makes our act a vast collection to watch out for.
If you want the best entertainment for your event, you can trust that our Veniamin shows will meet and surpass your expectations, because really, it is some perfect bit of world-class entertainment. If you are looking for the ideal weekend getaway or the best holiday experience, then the Veniamin show is where you want to be. With something for everybody, there will be no dull moment for you or your kids. Next time you're looking for a good picnic location, throw your bags in the car and drive into one of our Veniamin shows. We can also take the Veniamin shows anywhere. Just tell us what you want for your event, and we can be the colorful redefinition to it.
Our Veniamin shows hold at different locations every time, so you can check our schedule posts on social media and on our website to find out when we are bringing mind blowing entertainment to your neighborhood. We can assure you that for every time you have any of our acts on your stage, you'll be happy you did because the energy and happiness we carry is infectious. No wonder we keep getting numerous testimonies from people that have experienced the Veniamin shows before.
You deserve some fun, and there's none better to bring you the joy you deserve than the Veniamin show. Start making plans for it now, because you'll have hundreds of stories to tell. We can incorporate into any show, event or party, as long as you have something to celebrate, you have us to make your celebration worth every moment of it. Create the perfect memory that will last a lifetime in your city and beyond by customizing your event with one or more of the Veniamin shows. Get the people talking about your event weeks after it has ended. We believe that life should be complete bliss and we've gotten the perfect shows to make it so.
Contact us today and let's get talking about the incredible ways that different acts from our Veniamin shows can create a spark in your event. One thing is sure- your expectations will be met and surpassed. Your event will take a whole new and desirable turn. We look forward to hearing from you.